As we continue on our journey of moving forward, there is an uncontrollable urge to look back – back in time as to how things were in a previous era.  Even though we don't have a time machine yet in this modern age, we do have access to photographs that the city government (not Google) took of all properties for tax purposes.  Here is a brief description of that act from the New York City Department of Records:
TAX PHOTOGRAPHS
Between 1939 and 1941, and again in the mid-1980s, the city photographed every house and building in the five boroughs. Photographic prints of these unique images are now available for purchase.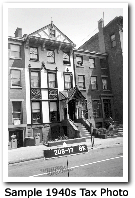 HISTORY OF THIS COLLECTION:
During the 1930s, local governments began to use photography as a tool for appraising real property for taxation purposes. New York City was the largest municipality to adopt this technology. The result was 720,000 35mm black-and-white pictures of every building in the five boroughs. By the time the Municipal Archives accessioned the collection, the original nitrate negatives had begun to deteriorate and exhibit signs of "redox" blemishes (which look like giant snowflakes). With grant funds from federal, state, and private sources, the Archives duplicated the original negatives so that new prints can be produced and copied them to microfilm so that patrons can easily and safely view the entire collection.
So, being tax-paying citizens, we obtained our proof for "461 – 31 BK"
I love the kid sitting on the curb.  He must be at least 75 years old by now.  Does he still live on the block?  Wonder if he was looking back or forward?
40+ years into the future, I think this might be the mid-1980′s photo:
Ahhh, "Those were the days."